Emmerdale love triangle: 'For selfish reasons Charity's ready to railroad Cain and Moira'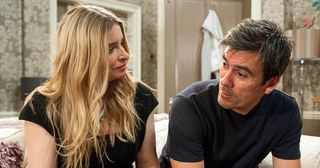 When Charity Dingle was sent to prison in Emmerdale in 2015 she made it quite clear that she would be coming back to claim her cousin Cain as soon as she was released. She's played the long game since – and it looks to have worked!
Next week in Emmerdale, Charity goes in for a kiss as Cain and Moira's marriage hits the rocks after a climactic row over Holly's drug taking.
We spoke to Jeff Hordley who plays Cain, Emma Atkins who is Charity and Natalie J Robb, who stars as Moira, about the fight for Cain's affections.
This is what Charity has been waiting for, isn't it? Jeff: "It is. Kate Oates, our former producer, set it up when Emma left to have her son, Albert. Charity told Cain then, 'When I come out, I am going to get you', and it has been bubbling away under the surface all this time. They were first loves and have always been united as they have their daughter, Debbie, in common. Cain knows that Charity wants him, but has no idea just how much he has been manipulated." Emma: "She has got fight in her belly for him. There is chemistry there and a certain 'Je ne sais quoi', yet it never works when they are together. Nobody has even come close to Cain as far as Charity is concerned. They have shared so much together." Natalie: "Moira has always known that Charity has hankered after Cain. For that reason, I thought it was bizarre when she invited her to stay at the farm when she was released. A lot of women watching would have gone 'No way!' They kind of got on in a weird way. Moira is very strong and deep down she has always known that Cain loves her. She finds Charity irritating. She thinks 'You're cousins for God's sake. Get over it!"
Where does it all go so wrong – or right in Charity's case? Jeff: "His marriage is fractured because of Holly and all her problems with drugs. Cain has been away and comes back to find Moira has been infected with a needle, Holly is on drugs and James is helping them. Cain asks Moira to choose between him and Holly and she chooses her daughter and rightly so.
"Every time you think they are going to reconcile, something comes along and it goes wrong again. It isn't always Charity either – it is their hang-ups and problems, too." Emma: "Even though there are problems, Charity can see that Cain is still very much in love with Moira, but for selfish reasons she is ready to railroad that relationship. She is awful! I don't condone anything she does." Natalie: "Moira is prepared to make up after they row over Holly, but Cain kisses Charity and Moira is like, 'This isn't going to go down well, darling – as soon as a bit of trouble comes along you go running back to her?' That really puts a wedge between them."
How will you feel if Cain leaves Moira for Charity? Jeff: "It will be interesting. I am blessed because I love working with Emma and Natalie. They make me look good because they are such strong actresses. When the writers try and put Cain and Charity together, it doesn't work because they are both too mischievous, whereas I think that Cain and Moira have more longevity." Emma: "In a parallel world they should be together, but in the real world, it is too volatile. I have so much hope and excitement for Cain and Charity. I pick up the scripts and go 'Oh, this is so good!' It is like investing in a team." Natalie: "I will miss working intensely with Jeff if that happens, but put it this way, the making up will be a lot of fun. We'll be back in that garage! That is where I got my nickname of Mucky Moira. Everybody here at Emmerdale calls me that – nobody calls me Natalie any more."
How do you think fans will react? Jeff: "I think they'd like to see Cain and Charity together because of all the history they've shared." Emma: "I think the audience would rather watch a relationship that is troubled and layered with history and issues." Natalie: "I did see on Twitter that viewers want a referendum if they split Cain and Moira up. I think it is split down the middle between those who back #Chain (Cain and Charity) and #Coira (Cain and Moira)."
Emma, have you settled back in after your maternity leave? Emma: "I loved my maternity leave and I dreaded coming back as I didn't feel ready, but as soon as I started work again, I thought 'I love this job so much!' It is the best job in the world and I don't know how I have juggled it with motherhood, but I have. I look at Jeff who has two kids and think 'How do you manage it?' He runs marathons too!" Jeff: "Not any more. I am always puzzled when people who have children say things like 'Have you watched this box set?' and I am like 'Where do you get time to watch box sets?' By the time Zoe [wife and co-star Zoe Henry] and I get in and put the kids to bed, we learn lines, tidy up the kitchen and then fall asleep."
What's in store for these three characters? Jeff: "Cain's mum is coming in and Iain MacLeod our producer has said it will be interesting if we see her talking to him like he's a child." Emma: "Debbie is coming back soon, so that will add something extra to the mix. I am not sure what she will say about Cain and Charity, but Chas believes very strongly that Charity is not good for her brother." Natalie: "I think the thread of Cain and Moira loving each other is going to continue. It is all about whether they can stay together or not. There will be some frustrations coming up for Moira…"
Get the What to Watch Newsletter
The latest updates, reviews and unmissable series to watch and more!