Emmerdale's Natalie J Robb – Moira catches Ross stealing cars and joins in!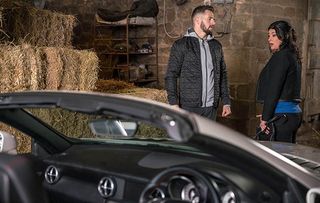 Moira Dingle needs money to keep the farm – so she becomes a thief! Natalie J Robb opens up about her new life of crime…
Moira Dingle is ready for a fresh start. She's decided she wants to keep the farm afloat and is forming a strong friendship with Debbie. But she's broke. So, when a business meeting goes wrong, she risks everything by stealing the client's car!
"She has nothing to lose," actress Natalie J Robb told Soaplife. "This guy patronises her and happens to leave his car keys behind."
Wow! That's just the sort of stunt Cain would approve of…
Does Moira want Cain back? "She still loves him. Cain [Jeff Hordley] is the one who lights her fire, but she was so hurt when he went off with Charity [Emma Atkins] that she is still pushing him away. It is easier for her to be alone, but she is glad of his friendship and is accepting his kindness."
Ross Barton is another matter, though… He's hiding stolen cars in Moira's barn again! "And she's angry, but Ross [Michael Parr] talks her round by explaining why he is doing it. So she gives him 24 hours to get rid of the car and he agrees."
Then she steals a car herself! How does that happen? "She steals from a client called Patrick, who is rude to her. He is really patronising and doesn't agree to things that are in their contract. But she is having none of it. She threatens him and he is in such a hurry to get away, he forgets his car keys."
What does Ross make of her thieving? "It gives him a new-found respect for her. But then Patrick agrees to another meeting, so Moira urges Ross to sell his car quickly."
Does that go according to plan? "No because Patrick reveals that there is an urn of ashes in the car and Moira is like 'What???' That is when you see that she is no crook, she is still Mother Earth as she is in a panic and wants to find the ashes."
She has another problem when Emma finds out, doesn't she? "Yes. Emma [Gillian Kearney] overhears Ross on the phone to Moira. She threatens Moira and says she will call the police. Moira then retaliates by saying she will take Ross down with her. She hopes to win Emma round by saying she did it out of desperation to save the farm."
She's helping Debbie, too, isn't she, by letting her move in with her? "She sees Debbie [Charley Webb] as family and wants to take her under her wing. They strike up a lovely friendship and that's good for Moira. She is never going to get over Holly's death, but she is just learning to cope with it. She has realised she needs to get back in control of her life. She is in a better frame of mind as the farm has given her something to focus on."
Emmerdale, ITV
Thank you for signing up to Whattowatch. You will receive a verification email shortly.
There was a problem. Please refresh the page and try again.