Emmerdale's Nick Miles: 'Bernice is drunk on the bed when Nicola comes banging on the door!'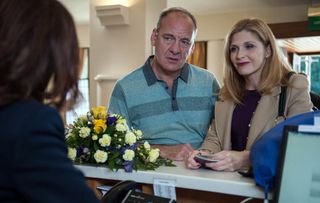 (Image credit: Andrew Boyce)
Jimmy King gets himself into a power of trouble when he asks Bernice to pretend to be his wife, as Emmerdale star Nick Miles explains...
Jimmy King is bending over backwards to make Nicola feel good about herself in Emmerdale, but ends up jeopardising his marriage when he asks Bernice to help him out of a fix with a snooty hotel receptionist, Nick Miles tells Soaplife…
Jimmy is desperate for some sleep… what's the problem? "Since the fire, Nicola has become a violent snorer meaning he can't get any sleep at all in his own bed. She won't let him sleep on the sofa because he makes a mess of it. He is exhausted. He has a tiring job anyway and is trying to pick up after three small children."
Does Nicola realise he's exhausted? "No and he doesn't want to worry her as she is very sensitive about her incapacities. He wouldn't do anything to add to that burden and is trying to help her get better."
What does he think about her jealousy over his friendship with Bernice? "He doesn't take that seriously. Nicola acts jealously around any woman Jimmy talks to. He doesn't fancy Bernice. It would never occur to him that it was any real threat, he just talks to Bernice because she is offering him tea and sympathy and he is desperate."
How does he come to be at a hotel with Bernice then? "Bernice has got Jimmy this voucher for a spa break. He lies to Nicola and says he is driving to Newquay and the plan is to get some sleep. However, he meets the receptionist from hell who won't let him use the voucher as it has the surname 'White' on it. He calls Bernice to help him get past her."
What happens when they get to the room? "Bernice is feeling sorry for herself, her life isn't going well and she spots the mini bar. Jimmy falls asleep whilst she decides to take advantage of the booze on offer."
But then Nicola finds out he's at the hotel! "Yes. She intercepts the email confirmation and goes to find out what is going on. He is asleep in bed when she comes banging on the door. Bernice is beside him drunk on the bed and hides in the wardrobe."
Is Jimmy treading on dangerous ground? "He needs to talk to his wife honestly. Bernice has been fairly needy recently and Jimmy is nice, which she is not used to. The decency of Jimmy has lulled Bernice into something that could cause problems."
Get the latest updates, reviews and unmissable series to watch and more!
Thank you for signing up to Whattowatch. You will receive a verification email shortly.
There was a problem. Please refresh the page and try again.