Nicola Wheeler: 'Jimmy's going to be fleeced by the Emmerdale women without Nico' (VIDEO)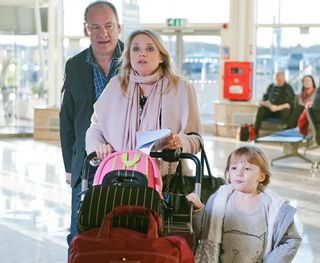 Emmerdale star Nicola Wheeler says her character Nicola's husband Jimmy King will be fleeced by every woman in the village, when Nicola departs for Dubai.
Nick Miles, who plays Jimmy, said he's unhappy about losing Nicola, who's going to be offscreen while she has her first baby: "I hate it, I absolutely hate it. I love working with Nic, obviously I'm thrilled for her personally, but selfishly, it's horrible. What's Jimmy going to do without Nico?"
Nicola said: "He's going to get fleeced, that's what's going to happen... Every woman in the village is going to fleece him."
Nicola's departure from Emmerdale for Dubai comes after her boss Lawrence White refuses her a sabbatical. But she's determined to relocate and accept a job offer in the Emirates, expecting Jimmy to follow.
Nicola explains the development: "Nicola comes back having been offered a job. She asks for a sabbatical, doesn't get a sabbatical, and basically tries to persude Jimmy to give up his life here in Emmerdale and come to Dubai for six months."
Nick responded: "Why wouldn't I? No trucking business, just go to Dubai and be a house husband, it will be fun."
Nicola continued: "Or be stuck in a Portakabin in the freezing cold...
"Near the Woolpack."
"There's beer in Dubai."
"Served how?"
"And you get served in fully air conditioned luxury."
Nick had the last word: "Jimmy doesn't like sun."
Watch the interview with Emmerdale's Nick Miles and Nicola Wheeler, above.
Get the latest updates, reviews and unmissable series to watch and more!
Thank you for signing up to Whattowatch. You will receive a verification email shortly.
There was a problem. Please refresh the page and try again.