'Pete doesn't think he's bad,' says Emmerdale's Anthony Quinlan. But is he a killer?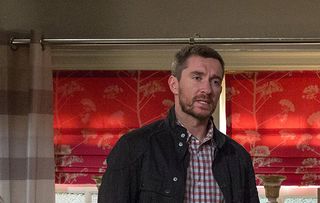 Did Pete Barton murder his mother, Emma? His brother Ross certainly thinks he could have! But Pete is pointing the finger at other people, reveals Emmerdale's Anthony Quinlan
Emma Barton's eldest son, Pete, is top of the list of suspects in her murder. Emmerdale's Anthony Quinlan talks to Soaplife about the investigation
What's the story?
There is a long list of suspects when it comes to the investigation into Emma Barton's murder and at the top of the list, is her son Pete. He's furious that his mum not only killed dad James, but also brother Finn too. "Pete is not himself at the moment," Anthony Quinlan told Soaplife. "There is absolutely no trust there between him and Ross. They are both really suspicious of each other." Could Pete really have pushed Emma to her death?
What's happening in Emmerdale? See the latest soap storylines
Anthony Quinlan reveals all to Soaplife
Soaplife: Could Pete have killed Emma?
Anthony Quinlan: "He might have good reason to kill her if he thought she was about to harm his newborn son – who has turned out to be Cain's baby. Also, Finn was his adored young brother, so he would never forgive Emma for killing him and his dad too. That's a lot for anyone to deal with."
S: Isn't Pete too nice to commit murder?
AQ: "It might have looked like that once, but don't forget he did leave Ross for dead after he found out that Debbie had cheated on him. And he cheated on Leyla. But Pete doesn't see himself as a bad guy."
S: If Pete's not the murderer, who is?
AQ: "Pete is accusing a few people at the moment. He is suspicious of Gabby and also calls the police when he hears that Adam changed the tyres on his car. Now, either he really believes that Adam has something to hide, or else he is trying to divert attention from himself."
S: Who would you put your money on as the killer?
AQ: "The killer knows who they are as our producer told us a while back. It could be any number of people. It could be his brother Ross – he didn't want Emma back in their lives in the first place as she nearly killed him when he was a baby. And Laurel has got a strong motive… What Emma did to Ashley was unforgiveable. Gabby also hates Emma because of that. Pete's mum made a lot of enemies…"
Emmerdale, ITV
Get the What to Watch Newsletter
The latest updates, reviews and unmissable series to watch and more!