Pierce is a nightmare, but he can also be very romantic, says Emmerdale's Zoe Henry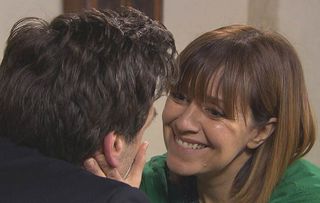 Zoe Henry explains why Rhona has a change of heart and agrees to marry Pierce Harris – but she warns that their future isn't rosy…
Vet Rhona Kirk is devastated when her divorce papers come through and she drowns her sorrows – then kisses her ex-husband  Paddy! But that doesn't mean she's given up on Pierce Harris, as Zoe Henry tells Soaplife…
Pierce is bad news so why is Rhona sticking with him? "You have to remember that Rhona is not in a great place. After everything that has happened with the car crash and losing Paddy [Dominic Brunt], she needs Pierce [Jonathan Wrather]. She's a single mum trying to hold down a career and, at the moment, doesn't feel as if she can cope alone."
Does she really love Pierce, though? "Yes, she does. There is an emotional connection there. He also says all the right things. He's a bit controlling, but he can also be very romantic when he wants to be. He takes her on romantic holidays and buys her flowers, which is more than Paddy ever did."
But he's so messed up! "We're quick to forget all that Pierce has gone through. Not only did his wife die, he also found out she was having an affair. Rhona knows Pierce is a nightmare, but there are parts of his personality she doesn't really want to acknowledge."
Tell us about this kiss with Paddy… "Well, they end up commiserating over the end of their marriage in the pub and Rhona has a bit too much to drink. Paddy walks her home and they kiss. She does pull away, but they do kiss. She decides that it would be best not to tell Pierce about it."
So how does Pierce end up proposing again? "Pierce goes missing. He tells Rhona he has gone to a work thing, but Rhona finds out he lied because someone sees him.
"When he then turns up, they have a row. He then reveals that he want to the place where Tess died because it is the anniversary of her death. Rhona feels terrible and wants to make it up to him, so she suggests that now might be a good idea for a second proposal. He asks her and she says 'yes'."
Is Rhona going to regret getting engaged to Pierce? "At the moment, after several turbulent years, Rhona is happy. The good outweighs the bad right now, but there will be a point where the scales tip the other way."
Emmerdale, ITV
Get the latest updates, reviews and unmissable series to watch and more!
Thank you for signing up to Whattowatch. You will receive a verification email shortly.
There was a problem. Please refresh the page and try again.