'Rakesh's kidnap gets out of control,' reveals Emmerdale's Pasha Bocarie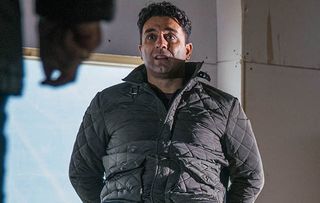 Rakesh is taken hostage in Emmerdale – and the list of suspects is very long, reveals star Pasha Bocarie
Rakesh Kotecha is kidnapped in Emmerdale. But why? And who has it in for him? "There's a long list of people who want to get at him," Pasha Bocarie told Soaplife. "He doesn't know who it is at first and things turn nasty when you least expect it."
Is it anything to do with his reunion with Priya? "It could be. Priya [Fiona Wade] realised she couldn't be without Rakesh, which delights him as he thought it was over. He's really happy to be with her again."
How do her brother and father, Jai and Rishi Sharma, react? "They're not happy. Jai [Chris Bisson] always had issues with Rakesh and he does his best to try to stop him and Priya getting back together."
Is Rakesh afraid of how Nicola King might react to the news? "Yes, they're both worried that Nicola [Nicola Wheeler] and her husband, Jimmy [Nick Miles], will go to the police if they find out as revenge for Nicola's injuries suffered in the fire Rakesh started. However, Priya and Rakesh find it difficult to have a relationship under wraps and they decide to go public."
What happens when people find out? "Rakesh plans to start a new job overseas and he and Priya intend to take Amba with them. When Jimmy hears him telling Amba's dad David [Matthew Wolfenden] about it, he interrupts and reveals that Rakesh started the fire at Mill Cottage."
How does that go down? "David knows he can use this as a weapon to force Priya and Rakesh to leave Amba behind. They are so worried they even consider running away."
Tell us about the kidnap… "Rakesh is hit over the head, that's all I can say. It's very intense and there's a lot of action. There are shades of dark comedy, but a serious side to it as well. It gets out of control. There's a big stunt, part of which I did myself. It's the riskiest thing I've ever done."
Emmerdale, ITV
Get the latest updates, reviews and unmissable series to watch and more!
Thank you for signing up to Whattowatch. You will receive a verification email shortly.
There was a problem. Please refresh the page and try again.