Are Dan and Kerry through? Emmerdale's Liam Fox talks love and loss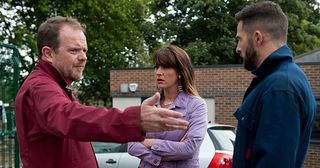 (Image credit: Andrew Boyce)
Emmerdale actor Liam Fox tells Soaplife that Dan Spencer fears the worst when he spots Kerry Wyatt coming out of a clinic…
Kerry Wyatt is trying to plan a secret abortion while Dan Spencer is wondering if they can overcome the fact that he cheated on her with Nicola, Liam Fox tells Soaplife.
But how will he react if he finds out she slept with Ross Barton?
How does Dan feel about his relationship with Kerry at the moment? "He really wants it work out and hopes that if they get married, it will glue them back together again. He really doesn't want to lose her."
Does he regret his thing with Nicola? "He really does. He feels stupid now because all he has ever wanted is Kerry. He blames himself and knows there was no excuse for what he did."
Has he noticed that she is behaving oddly? "Yes, he knows there is something not right with her, but he can't figure out what it is."
How does he find out she's been to an abortion clinic? "There is a car that goes missing from the garage and Laurel walks past and says Kerry went off in it. Dan is confused as to why she should be in it and then he and Ross get a call to say the car has been spotted outside this clinic, so they go down and see Kerry coming out of the clinic, he puts two and two together and makes four."
What does he think? "He doesn't know what to think, he then figures out that what is on her mind has something to do with this, so he wants answers. Immediately."
Will they stay together? "You'll have to wait and see. Dan would be gutted if he found out that Kerry might be pregnant with Ross's baby. It is the ultimate betrayal. If they do split up, it will be interesting to see how they cope without each other…"
Get the latest updates, reviews and unmissable series to watch and more!
Thank you for signing up to Whattowatch. You will receive a verification email shortly.
There was a problem. Please refresh the page and try again.