Victoria Barton believes Adam is innocent of murder insists Emmerdale star Isabel Hodgins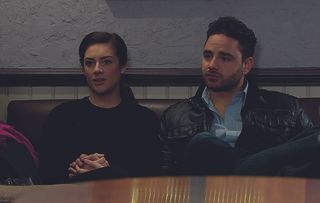 Victoria Barton is convinced husband Adam didn't kill Emma Barton but she's not happy when Adam tells the police the murderer was Emma's son Ross!
Adam Barton is the last person you'd expect to see at the centre of a murder investigation and his wife Victoria wants the madness to stop. However, things take a dramatic turn when Adam calls the police and tells them that Ross killed Emma, says Isabel Hodgins.
What's the story?
"Victoria is not happy about Adam telling the police that Ross killed Emma," actress Isabel Hodgins told Soaplife. "She wants Adam out of this completely." Is Adam right to accuse Ross or has he got himself into yet more trouble?
What's happening in Emmerdale? See the latest soap storylines
Isabel Hodgins reveals all to Soaplife about why Victoria believes Adam is innocent of murder...
Soaplife: How does Victoria feel about Adam being a suspect?
Isabel Hodgins: "She is a bit worried as it is never good if your husband is in the frame, but in her heart of hearts she thinks he is innocent. She's just trying to calm him down because in her eyes, the police are the good guys and are never going to arrest somebody who is innocent. She is convinced everything will be okay in the end."
SL: Does she have any doubts at all about Adam's innocence?
IH: "No and she thinks it is most likely to have Pete or Ross. She is a bit worried as she can see how much Adam is obsessing over it. She wants them to concentrate on their marriage and lives and leave the police to do their jobs. She thinks they will catch who ever did this so he needs to butt out and leave it alone."
SL: Is Victoria pleased when Adam apologises to the Barton brothers?
IH: "She is a bit confused as one minute he is raging, the next he is making an effort, but she thinks 'good on you for being the bigger man', Ross and Pete have been through so much and making amends is a good thing."
SL: How does she react when he tells the police Ross did it?
IH: "She's angry. Ross and Pete have been through so much and he does not have a lot of evidence to go on. They lost their brother, they found out their mum was a bit of a psychopath and she is dead. Adam should leave them alone in her mind."
SL: What do you think of this storyline?
IH: "I enjoy a whodunit, but I bet the audience don't, I bet they are shouting at the TV saying 'Please tell us who it was!' I love the way the show has been so creative with the story and kept everyone guessing. I am sad that Joe Gill left though. I didn't want him to go."
SL: How would Victoria feel if Adam is guilty?
IH: "She would feel like a fool - how could you not know your husband did that? She would feel betrayed as she'd hate the fact she was lied to."
SL: How do you feel about Adam Thomas - who plays Adam - leaving Emmerdale?
IH: "I love working with Adam and am so pleased that Victoria and Adam are back together as I felt like we had more to give and there was more to explore. He is my sunshine. We have established a bond. I want him to do well, but I am devastated that he is going."
Get the What to Watch Newsletter
The latest updates, reviews and unmissable series to watch and more!