'What Megan does could put Jai in prison for a long time,' reveals Emmerdale's Gaynor Faye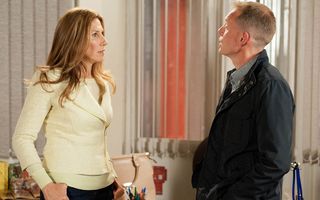 Jai's so busy fighting with Rachel over Archie and cheating with Leyla that he doesn't see that betrayed wife Megan's meeting with a mystery man, Emmerdale (opens in new tab)'s Gaynor Faye tells Soaplife…
It was never the romance of the century, but Megan Sharma loves her husband, Jai, and is devastated by his affair with Leyla (Roxy Shahidi (opens in new tab)), her business partner. While she continues to act the loyal wife, Megan is plotting with Rachel to bring Jai down. "Jai's doing things and not telling Megan," says Gaynor (opens in new tab). "Then, suddenly, he does something horrific which means Archie could be taken away from Rachel."
Why hasn't Megan told Jai (Chris Bisson (opens in new tab)) to stick it?
"Everything in her says 'run!', but she's seen a solicitor and she's been told she'll get nothing if she leaves. She'll lose her home, her money…everything! So she's keeping her cards close to her chest and biding her time."
Does Megan really want to help Rachel?
"Megan's always had a soft spot for Rachel [Gemma Oaten (opens in new tab)] and she was only playing ball with Jai for the sake of her happy family unit. They're forming a genuine relationship."
What has Megan got planned for Jai?
"He lets something slip about his past and her ears prick up. She decides to play him at his own game, meets a mystery man alone at the factory and then plants something on him that could put him in prison for a long time."
Do you like showing Megan's conniving side?
"I love it. I'm not very good at playing weak and mild. In fact, I have never played those parts. It's great to get the fire back into Megan's bones."
Will Jai wish he had never crossed her?
"I hope so! Although, he's very dark at the moment, locking people up left, right and centre, so God knows what will happen to Megan if he finds out. On a chessboard, I think it would be stalemate between them."
Emmerdale (opens in new tab), ITV.
Get the latest updates, reviews and unmissable series to watch and more!
Thank you for signing up to Whattowatch. You will receive a verification email shortly.
There was a problem. Please refresh the page and try again.