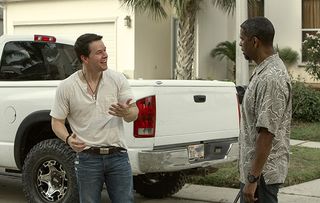 (Image credit: © 2013 GEORGIA FILM FUND FIFTEE)
Giving a hip, flip and cynical spin to the buddy movie genre, Denzel Washington and Mark Wahlberg play double-dealing partners in crime in this fiendishly twisty action thriller
Giving a hip, flip and cynical spin to the buddy movie genre, Denzel Washington and Mark Wahlberg play double-dealing partners in crime in this fiendishly twisty action thriller.
Washington's smooth operator Bobby and Wahlberg's fast-talking Stig pull off a bank heist in a small Texas town, each plotting to bamboozle the other. But when they unexpectedly wind up with $43million belonging to the CIA, they realise they need to team up in earnest if they are to survive.
With Paula Patton's sultry DEA agent, James Marsden's slick Naval Intelligence officer and Bill Paxton's remorseless CIA agent also playing two-faced games of their own, the plot probably has a few too many twists and turns, but Washington and Wahlberg - channelling the playful spirit of such 1980s buddy pairings as 48 Hrs and Lethal Weapon - spark off each other splendidly, while director Baltasar Kormákur gives the increasingly outlandish shootouts a splashy comic-book zest.
Get the latest updates, reviews and unmissable series to watch and more!
Thank you for signing up to Whattowatch. You will receive a verification email shortly.
There was a problem. Please refresh the page and try again.