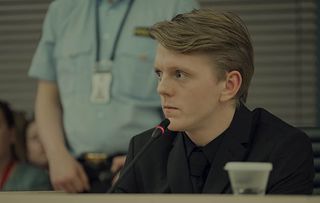 (Image credit: Erik Aavatsmark/Netflix)
Paul Greengrass turns an unflinching eye on the terrorist attacks carried out in Norway in 2011 by far-right extremist Anders Behring Breivik
Paul Greengrass turns an unflinching eye on the terrorist attacks carried out in Norway in 2011 by far-right extremist Anders Behring Breivik.
He gives us a forensic re-creation of Breivik's shocking crimes - detonating a car bomb outside a government building in Oslo, followed by a mass shooting at a youth camp on Utøya island - but the film's main focus is the aftermath of these horrific events and their impact on survivors and their families, and on the Norwegian nation as a whole.
Greengrass, maker of gripping fact-based dramas United 93 and Captain Phillips as well as three Bourne movies, puts this all together skilfully, and shows welcome restraint when it comes to the bloodshed.
All the same, viewers may still have qualms about the ethics of putting these events on screen, and having the Norwegian cast (Anders Danielsen Lie plays Breivik) speak in English throughout is a jarring note that introduces an unfortunate note of inauthenticity to the project.
Get the latest updates, reviews and unmissable series to watch and more!
Thank you for signing up to Whattowatch. You will receive a verification email shortly.
There was a problem. Please refresh the page and try again.