A Black and White Killing: The Case That Shook America - BBC2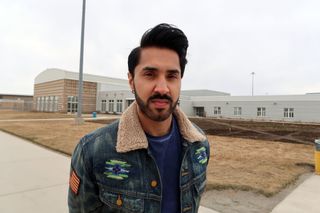 (Image credit: BBC/Expectation Entertainment Ltd)
Journalist Mobeen Azhar investigates the killing of a black man in America to ask a wider question – why are so many white men joining neo-nazi groups?
A Black and White Killing: The Case That Shook America is a two-part documentary about the 2016 murder of black teenager Larnell Bruce in Portland, Oregon.
It's written and presented by journalist Mobeen Azhar (Hometown), who asks if Larnell was murdered because of the colour of his skin and why an increasing number of mainly young white men are joining neo-Nazi groups.
Mobeen meets Larnell's family, visits the crime scene with the investigating police officers, meets current and current and former members of white supremacist groups and talks to experts on such groups.
Overall he's hoping to to give a bit more insight into life in a deeply divided community, and to draw lessons which can be applied to the wider USA and even in this country.
TV Times rating: ****
Thank you for signing up to Whattowatch. You will receive a verification email shortly.
There was a problem. Please refresh the page and try again.