Ainsley's Caribbean Kitchen – ITV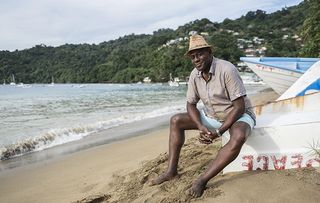 Ainsley Harriott takes a culinary tour of the Caribbean, visiting islands that have inspired his cooking. First stop, Kingston, Jamaica
Ainsley Harriott takes a culinary tour of the Caribbean, visiting islands that have inspired his cooking. First stop, Kingston, Jamaica
Ainsley Harriott is on top form in this latest culinary offering, which sees the ever-chirpy chef island-hopping around the Caribbean.
Kicking off in his parents' birthplace of Kingston, Jamaica, the former Ready Steady Cook host salivates over the freshest of yams at a busy market, survives a tropical rainstorm while learning about Rastafarian fare and visits British chef Tim Kensett at Ian Fleming's former home, now a luxury hotel called GoldenEye.
Griddled yams and lime prawns, oxtail with butter beans, and orange and cardamom martinis are on the menu in a series destined to chase away the Winter blues.
Please note, this programme airs in Wales on Thursdy at 10.45pm).
Cookery fans may also like to catch Parveen's Indian Kitchen, starting today at 9.30am on ITV.
TV Times rating: ***
Ainsley Harriott talks to TV Times about going back to his roots to explore the best of Caribbean cuisine…
Why did you want to explore the Caribbean, Ainsley?
As we get older, I think we want to understand where we came from, so we can understand ourselves better. I was born in England and call it home, but I feel a connection with the Caribbean – it's got soul.
With this series I wanted to explore remote spots, meet locals impassioned about food and really get under the skin of the place.
And do you?
Not half! I visit Jamaica, Tobago, Trinidad, Barbados, Grenada, Saint Lucia, Dominica, Antigua and Barbuda, and found they couldn't be more different.
People think of the Caribbean as 'one' place, but each island has a rhythm, attitude and culinary influence of its own. The vibrant energy of Trinidad is so different to the tranquillity of Dominica.
I'm looking forward to showing viewers there's so much more to the Caribbean than sun, sea and jerk chicken!
In Sunday's first episode, you visit Jamaica. What do you get up to?
We start in the bustling capital, Kingston, where my late parents were born and raised until they moved to England in the early 1950s.
It was lovely seeing the school my mother went to and meeting stallholders at Coronation Market, who have been working there for 60 years. The fresh produce is incredible – yams are a Jamaican staple, and I cook up a mean griddled yam with garlic, chilli and mint.
I also found guineps, which are similar to lychees, and I haven't tasted them since I was eight years old. My grandparents had a guinep tree, and biting into one brought the memories flooding back.
You also embrace some Rastafarian cooking…
Rastafarian principles focus on 'clean' eating, which means plant-based foods, no meat – and only produce they've grown on their farm. I still dream of the ackee-stuffed ravioli that Rasta Chris and his wife, Lisa, cooked for me.
Get the latest updates, reviews and unmissable series to watch and more!
Thank you for signing up to Whattowatch. You will receive a verification email shortly.
There was a problem. Please refresh the page and try again.