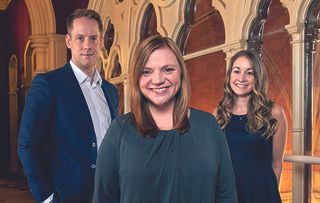 (Image credit: BBC/Studio Lambert/Des Willie)
Eager to make their marriage a success, a couple learns from their future in-laws
Eager to make their marriage a success, a couple learns from their future in-laws.
Having married more than 300 couples, Gogglebox's resident vicar Kate Bottley is perfectly placed to offer marriage advice.
She believes that by spending time alone with their future in-laws couples can learn a lot about the expectations their partner might bring to the marriage.
Stacey and Chris from Somerset are getting married in eight months' time, but Stacey is anxious about losing her independence and Chris has a tendency to hide things from Stacey to protect her.
Will Stacey learn anything from Chris's parents' 35 years of marriage?
And does her parents' divorce when she was a teenager explain why Stacey is so fiercely independent?
Thank you for signing up to Whattowatch. You will receive a verification email shortly.
There was a problem. Please refresh the page and try again.