Alya Nizar blackmails her granddad!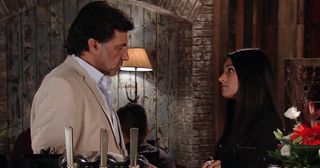 Sneaky Alya Nizar vows not to tell Yasmeen the truth - if Sharif pays her off!
Aidan tells Alya Nizar  that the equipment they'd need in order to bulk produce her designs would cost up to £14k. Later, Sharif begs Alya not to tell Yasmeen the truth but with all respect for her grandad lost, Alya agrees to keep silent – for a price.
Roy warns Cathy to calm down before she tells Alex the truth about his father. He tries to brush off Alex's concerns over Cathy's bad mood, but Roy is aghast when Alex tells him a secret…
Desperate for her brother to make amends with his wife, Maria tells Beth that if she's any chance of getting Kirk back she'll need to deliver a heartfelt apology. Later, Beth asks Kirk to support her in court, but what will he say?
Erica's sceptical about the twins' business enterprise. Meanwhile, Andy writes a short horror story.
Get the latest updates, reviews and unmissable series to watch and more!
Thank you for signing up to Whattowatch. You will receive a verification email shortly.
There was a problem. Please refresh the page and try again.