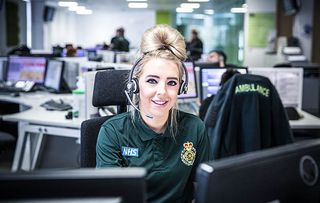 (Image credit: -)
A new team of paramedics are shaken by some upsetting call-outs as we follow the North West Ambulance Service in BBC1's Ambulance
A new team of paramedics are shaken by some upsetting call-outs as we follow the North West Ambulance Service in BBC1's Ambulance
Tissues at the ready for this emotional series opener.
Cameras follow a different team this time from North West Ambulance Service in Greater Manchester, and the crew are on an emotional rollercoaster ride right from the start with a series of tearjerking callouts, including a man who has been hit by a tram.
You also can't help feeling for call handler Laura (pictured above).
She wanted to join the service after paramedics supported her family when her own mum died when she was just 12.
Watching her bravely (and tearfully) try to give urgent life-saving advice on chest compressions over the phone to a desperate caller in a similar situation is truly heartbreaking…
'When I was 12, we found my mum bleeding from the mouth,' she says.
'She was unconscious and we had to give her CPR.
'I thought, "She'll be fine and everything will be all right."
'But it wasn't like that – we lost the most important person in our lives.'
She's not the only one experiencing the intense pressure of the job.
Crewmates Jade and Jonny are dispatched to treat an 82-year-old woman, Shirley, who has collapsed and is foaming at the mouth, while her distressed husband, Gordon, watches on.
Jade knows the prognosis doesn't look good for Shirley and the experience leaves her feeling shaken.
Also on call are Adam and Paul, who are moved by an elderly war veteran living alone without any help from carers.
Meanwhile, Laura's experience as an emergency call handler makes her realise she wants to do even more to help seriously ill people and she decides to train as a paramedic.
'There's only so much help you can give as a call handler and that's the most frustrating thing because you want to do more but you physically can't,' she says.
'If I can go to somebody else's house and they feel how we felt when the paramedics came to us, then I'll be happy.'
TV Times rating: *****
Get the What to Watch Newsletter
The latest updates, reviews and unmissable series to watch and more!