Another day, another drama for Tash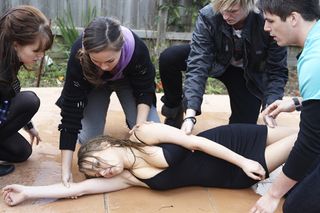 (Image credit: Channel 5)
Making the most of her last night, Tash pulls an all-nighter with Andrew, Chris and Summer. Not wanting the fun to end, she guilt trips them into sneaking into Toadie's pool to go skinny dipping. But the fun is cut short when Jade catches them and orders them to leave. Always one for disobedience, Tash refuses to listen. Whilst Jade struggles with her, Tash loses her balance and falls into the pool. Initially thinking she's being stubborn, Jade soon realises she isn't moving. Jade's struggling to keep her arrangement with Kyle a secret. Faced with constant queries from Sonya about the nature of their friendship, she asks Kyle to tone it down in public. Taking this to the extreme, Kyle decides to completely ignore her in front of Sonya - in turn causing her to grow more suspicious. To make things easier, they work out a set of ground rules. Once they know where they stand, Jade is able to relax and enjoy what she has with Kyle. Michael's in two minds about his decision to send Tash away to boarding school. Having found an unusual ally in Paul, he convinces Michael he's doing the right thing.
Get the latest updates, reviews and unmissable series to watch and more!
Thank you for signing up to Whattowatch. You will receive a verification email shortly.
There was a problem. Please refresh the page and try again.