Anthony gets his comeuppance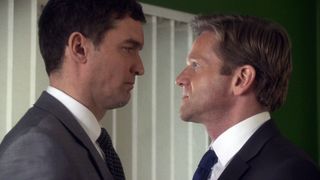 (Image credit: BBC)
Anthony calls a partners' meeting to finalise plans for the King's Green merger. He opens the meeting with a proposal that he's confident the partners will love - but it seems his confidence may be misplaced. Anthony proposes to become a partner and Jimmi expects Daniel to back him but, instead, he launches an attack.
Anthony tries to defend himself, but Zara backs Daniel up as he produces evidence that Anthony has been making illegal payments to King's Green. Anthony protests that Daniel was in on it, but Daniel denies everything. Anthony stares at Daniel, open mouthed as he realises he's been set up. The partners vote to dismiss Anthony with immediate effect and escort him off the premises!
Also, Rob is called to a hotel to deal with a drunk and disorderly salesman, who is nursing an embarrassing secret - he's been lured into bed by a kiss and tell femme fatale. Rob soon discovers that the salesman isn't the woman's first victim – and he has a hunch that she won't be his last.
Get the latest updates, reviews and unmissable series to watch and more!
Thank you for signing up to Whattowatch. You will receive a verification email shortly.
There was a problem. Please refresh the page and try again.