April and Dex are finally married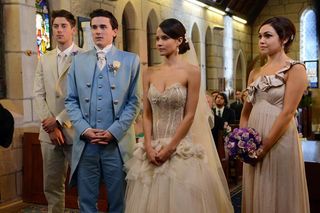 Bianca hops into the limo and reminds April how much she loves Dex but April still doesn't want to walk down the aisle alone, so Bianca escorts her. Finally, Dex and April are married and arrive at their barn reception. Even though it's over between them, Casey and Tamara dance together. When April throws her bouquet, she aims it at Tamara to catch. At the end of the wedding, Tamara and Casey know their ruse is over, but they'll still be friends.
Sasha tells Spencer she hasn't given up on them, but she has to be there for her dad. Sid decides to let Sasha stay with Irene, and Sasha is overjoyed. The next day, Indi reveals she's making Heath and Casey co-managers of the gym.
Hannah gets a text from some girls from work who have invited her out and Zac encourages her to go. Hannah arrives home and she and Zac almost kiss but are interrupted by Tamara. When Sasha tells Evelyn and Oscar about moving out of the farm house they realise they could rent it.
Sid, Indi, Dex and April make a tearful farewell with Irene, Bianca and Sasha. The big day has reminded Indi of her wedding to Romeo and she and Alf reflect on how hard it was that they never got to say goodbye.
Get the latest updates, reviews and unmissable series to watch and more!
Thank you for signing up to Whattowatch. You will receive a verification email shortly.
There was a problem. Please refresh the page and try again.