Coronation Street spoilers: Audrey is robbed by masked men outside the salon!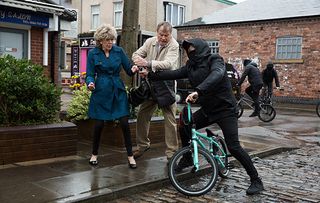 Audrey is robbed as she leaves the salon – and Gail is convinced it's proof of Richard's curse
Gail explains to a sceptical Audrey, Roy and Brian that Richard Hillman has put a curse on the family and Rosemary has offered to help, in return for payment. Having been summoned to the salon Rosemary is shocked to find the group of friends but recovers her composure and insists Gail needs her help. As Audrey, Brian and Roy leave the salon Audrey is knocked to the ground by a gang of youths who steal her handbag. As Audrey is taken to hospital Gail is convinced this is proof of Richard's curse!
David and Shona argue over his decision to emigrate, whilst Maria points out that getting a visa might be a problem. Martin arrives but sensing an atmosphere he leaves, only to be intercepted by Josh who tells him David was angry he was moving so far away.
Leanne announces the brewery are going to do a 'Family Local' promotion and are sending a photographer round but things get off to a rocky start when Oliver draws all over his face with marker pen and Simon disappears.
Legacy Reach site manager Mona arrives and shocks Phelan with some news. He won't be paid for his shoddy work as the concrete he has laid has to be dug up and done again!
First episode of the evening.
Get the latest updates, reviews and unmissable series to watch and more!
Thank you for signing up to Whattowatch. You will receive a verification email shortly.
There was a problem. Please refresh the page and try again.