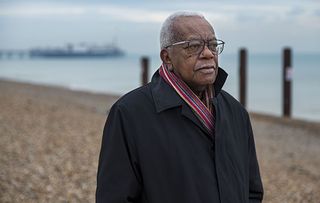 Sir Trevor McDonald talks to a father whose daughter was murdered in the harrowing one-off ITV documentary Babes in the Wood
Sir Trevor McDonald talks to a father whose daughter was murdered in the harrowing one-off ITV documentary Babes in the Wood
Sir Trevor McDonald meets the detectives at the centre of the infamous 'Babes in the Wood' murders to find out why it took more than 30 years for killer Russell Bishop to be brought to justice.
Best friends Karen Hadaway and Nicola Fellows, both nine, were discovered in woodland in Wild Park, Brighton in October 1986, having been sexually assaulted and strangled.
Police knew 20-year-old labourer Bishop was their man, but he was sensationally acquitted at his original trial and it took a change in the double jeopardy law to finally convict him.
'The police came and told us the details,' says Nicola's father Barrie, who speaks to Sir Trevor McDonald in ITV's one-off documentary.
'They told me she'd been asphyxiated and sexually abused. I just said, "Why?"'
Soon, Bishop, who was known to both girls' families, was arrested by police. He was acquitted due to what was thought to be unreliable forensic evidence.
Worse still, Bishop's defence team cast suspicion on Barrie.
Sussex Police remained convinced that Bishop was their man, but the accusations stuck.
'Bishop was looking for a scapegoat and I was it,' says Barrie, who admits he's been left broken by the allegation.
'I hate the man for what he's done to me and put members of my family through.'
In 1990, a seven-year-old girl was snatched off the street, strangled and sexually assaulted.
Bishop was found guilty of attempted murder.
Then, in 2011, the Babes in the Wood murders were re-examined.
With the double jeopardy law now abolished, Bishop could be tried again. In December last year, he was convicted and sentenced to life for their murders.
'It's made me believe in justice,' says Barrie. 'The truth is he murdered two little girls, he tried to murder another little girl and now he's wallowing in prison, where he should be.'
Get the latest updates, reviews and unmissable series to watch and more!
Thank you for signing up to Whattowatch. You will receive a verification email shortly.
There was a problem. Please refresh the page and try again.