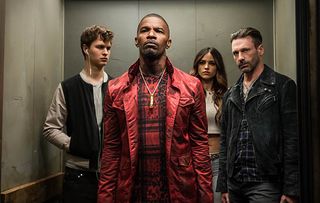 (Image credit: wilson webb)
Director Edgar Wright's scorching crime caper stars Ansel Elgort as a getaway driver looking for a way out
Director Edgar Wright's scorching crime caper stars Ansel Elgort as a getaway driver looking for a way out.
An orphaned former joyrider, Elgort's Baby is now the gifted wheelman for Kevin Spacey's Atlanta crime kingpin. A rotating crew of wrong 'uns carry out the intricate heists Spacey sets up, but Baby is his getaway driver of choice, his lucky charm from the time he caught the youngster boosting his swag-filled Mercedes.
Baby has been paying off this debt ever since. As his cohorts quickly discover, Baby's personal shtick is constantly listening to music to drown out the 'hum in the drum' - the tinnitus he acquired as a child in the accident that killed his parents. And, no matter how pressing the situation, Baby won't put pedal to the metal until he has found the killer track to accompany the gang's escape.
This gives Wright the chance to score his action sequences to a string of rock, pop, funk and soul gems, from Bellbottoms by alt-rockers The Jon Spencer Blues Explosion to Radar Love by 1970s Dutch band Golden Earring and Brighton Rock by Queen. Happily, the scenes in between get the music treatment, too. When Baby saunters to the coffee shop, the accompaniment of Bob & Earl's Harlem Shuffle gives his cool swagger extra pep.
Naturally, Wright gives all this an edge. Baby is desperate to quit the gang, an aspiration that becomes even more urgent when he falls in love with Lily James' diner waitress. But Spacey always has one more job lined up and Baby's latest crew - Jamie Foxx's unhinged hardhat and Jon Hamm and Eiza Gonzalez's loved-up duo - are dangerously volatile.
Wright delivers all this with drop-dead cool. He's reworking a well-worn genre, of course, but he gives the clichés such a nifty spin they come up fresh. The car chases are terrific, the dialogue is witty and the music choices spot on. And in the appropriately baby-faced Elgort, Wright has a lead with just the right amount of cocky charm and callow vulnerability.
Get the What to Watch Newsletter
The latest updates, reviews and unmissable series to watch and more!