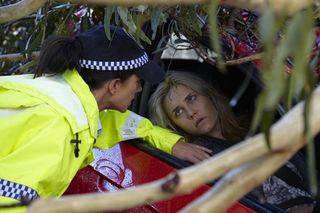 (Image credit: Channel 5)
Charlie goes to a car accident, only to find the victim is Tegan. Darcy is missing from the car. As Charlie waits for backup, Tegan tries to build bridges by discussing their mutual love for Brax. Meanwhile, Brax spots Darcy alone in the bush and then finds the accident. A grave Tegan is being put in an ambulance. Tegan is rushed to surgery but doesn't make it. Just before she dies, she tells Brax that she's revealed his relationship with Charlie to their mortal enemy, Hammer. Alf heads over to the school to assist with the rescue. Bianca and Heath are missing under the rubble, as is Colleen. Marilyn joins everyone at school and to everyone's relief, Colleen is found. She was trapped in the toilet - much to her embarrassment! Liam anxiously awaits news of Bianca, but his relief at her rescue is short-lived when he sees Heath at her side, comforting her. After Bianca is released, Liam confronts her about being with Heath. Bianca denies his allegations and shuts down Liam's hopes of them reuniting. Elijah and VJ find Miles and tell him about Leah. Miles meets Leah at the hospital. Both fear they're losing the baby. But after an examination, their nightmare is over when they learn the baby is safe.
Get the latest updates, reviews and unmissable series to watch and more!
Thank you for signing up to Whattowatch. You will receive a verification email shortly.
There was a problem. Please refresh the page and try again.