Battle of the Super Eaters: 3000 Calories a Minute – C4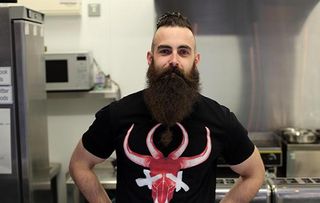 C4 follows Britain's top competitive eaters as they try to make it big on the international circuit in Battle of the Super Eaters: 3000 Calories a Minute
C4 follows Britain's top competitive eaters as they try to make it big on the international circuit in Battle of the Super Eaters: 3000 Calories a Minute
Can competitive eating be considered a sport?
That's the premise behind this film following three of Britain's top eaters as they go head to head, or mouthful to mouthful, in food challenges.
With a potential 10,000 calories eaten in one go, this is not one to watch on a full stomach.
Adam Moran (pictured above), also known as BeardMeatsFood, is Britain's first dedicated competitive eater.
Adam regularly competes for top titles and world records as he goes up against the clock to consume huge portions.
'I'm the best in the country, it's like being Harry Kane,' he says.
'I eat one meal a day so I have a 24-hour fast, which has developed my ability to eat a lot.'
While competitive eating is on the rise in the UK, in America it's already huge and Adam wants to make his name Stateside by competing in major contests there, including one in New Orleans where he aims to eat over 500 oysters in eight minutes.
'Lots of food challenges in England are not a real contest for me,' he says.
'The only way to get better with any sport is to compete against the best.'
We also meet Adam's big British rivals, his former protégé Leah Shutkever, and ambitious newcomer Kyle Gibson, who are eager to topple him.
But as Adam goes head-to-head with Leah to eat a 55oz cheeseburger at the Hwy 55 Burger Challenge in North Carolina, has he bitten off more than he can chew?
'There's rivalry, but I'll do whatever it takes,' says Adam.
'Nobody beats The Beard.'
TV Times rating: ***
Get the What to Watch Newsletter
The latest updates, reviews and unmissable series to watch and more!