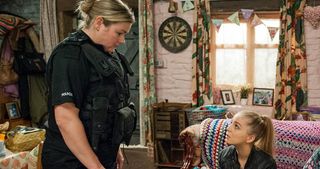 (Image credit: Andrew Boyce)
Having been found inside Doctor Bailey's house, which has been trashed by Lachlan, Belle legs it. His wife Angie is fuming, thinking the break-in is further evidence that the teen has been stalking her husband, not realising Bailey has duped his wife to cover up his affair! While he tries to stop Angie calling the police, at home Belle admits to her mum, Lisa, that the stalker story was a cover up.
Soon, the police arrive and arrest Belle, but down at the station she refuses speak, convinced that her lover Bailey will come to her rescue…
Hanging out with Dan, Jimmy and Doug in Arthur's pirate ship, Ashley's really enjoying a game they're playing with the kids. But when the guys' antics get exposed by their partners, who were wondering where they'd got to, Nicola reprimands Jimmy, noting that he's meant to be 'babysitting' dementia sufferer Ashley. Problem is, Ashley overhears…
Hating on Pierce, Marlon plans to lace his grub with laxatives! But will the Woolie chef really go through with it?
Get the latest updates, reviews and unmissable series to watch and more!
Thank you for signing up to Whattowatch. You will receive a verification email shortly.
There was a problem. Please refresh the page and try again.