Bethany has a flashback to her traumatic past and lashes out at the club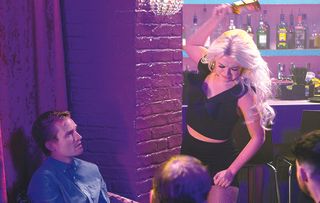 (Image credit: Mark Bruce)
Bethany hurts a punter and gets arrested when things get out of hand at the lap dancing club
Bethany tells Gail and Sarah she has resigned from the salon and is going back to lapdancing. Back at the club the new manager makes her wear a skimpy bikini but she refuses. Things get out of hand when a stag do get rowdy and hands on. Seeing the groom she has a flashback to Nathan and lashes out with a bottle. The police are called and Bethany is arrested.
Phelan tells Alya and Kate they need to find a new tenant for Luke's room. Zeedan overhears and suggests to Sophie that she should offer to move in. Kate is not happy but can't say anything when Alya says it is a great idea.
A groggy Billy and Lee wake up in Billy's flat and head out. Summer returns and is shocked at the state of the flat but hides as they return before confronting Billy about what he is doing. Will he tell her the truth?
Craig is tense as he realises his watch has stopped, his OCD kicks in and he cannot leave the salon flat until the time reaches an even number. Maria talks to Beth about his behaviour but she says he is just safety conscious. Dr Gaddas tells Liz that Moira has won her tribunal and will be returning to the surgery.
First episode of the evening.
Get the latest updates, reviews and unmissable series to watch and more!
Thank you for signing up to Whattowatch. You will receive a verification email shortly.
There was a problem. Please refresh the page and try again.