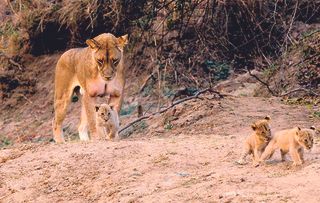 (Image credit: Blue Ant Media)
Big Cat Week is back on Nat Geo Wild – a week of programming about these endangered animals
Big Cat Week is back on Nat Geo Wild – a week of programming about these endangered animals. The week begins with Africa's Hunters, which follows the Nsefu pride of lions in Zambia, and its six new cubs.
This is the story of the smallest of the litter, whose chance of survival is low. When he gets separated from the pride he wanders through the night calling for his mother. Is this the end for our little misfit?
On Tuesday, Soul of the Cat (8.00pm) looks at the parallels between domestic cats and their wild cousins, while on Thursday, Mission Critical: Leopards at the Door (8.00pm) tells the incredible story of leopards living alongside people in the sprawling metropolis that is Mumbai.
Thank you for signing up to Whattowatch. You will receive a verification email shortly.
There was a problem. Please refresh the page and try again.