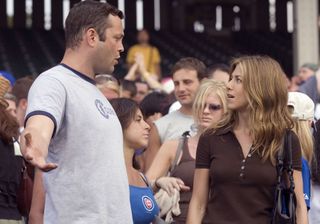 A refreshingly sour romcom that sees Jennifer Aniston and Vince Vaughn in a tit-for-tat break-up battle. 3/5 stars
Aniston works in a snooty Chicago art showroom and Vaughn is a bus tour guide. They meet at a baseball game and, even though they've got virtually nothing in common with each other, they move in together. And then they break up. Much publicity was gained by the real-life 'are they or aren't they?' romantic status of Aniston and Vaughn and they certainly strike sparks as they lay into each other.
Most of the emphasis is on Aniston trying to get Vaughn to change his slobbish ways, but it's obvious from the start that she'd be far better off without him. Vaughn is a loud-mouthed, self-obsessed, overgrown child, charismatic and irritating in equal measure.
The film makes some amusing observations about the tricky process of falling out of love as the couple enter into an increasingly outlandish series of humiliations as they try to force each other to move out of their coveted flat, though it avoids the sheer venom of the likes of 1989's The War of the Roses and lacks the courage to commit itself to an amicable settlement. But it's a fun watch all the same.
Get the latest updates, reviews and unmissable series to watch and more!
Thank you for signing up to Whattowatch. You will receive a verification email shortly.
There was a problem. Please refresh the page and try again.