Brennan and Naomi enjoy flirting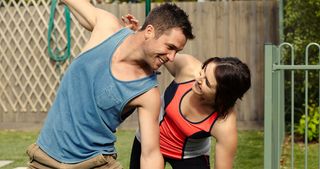 (Image credit: Heath McKinley Photographer)
The attraction between Naomi and Brennan grows but is put on hold when Matt enlists Naomi to help the police build a case against Dimato. But Naomi's refusal to be intimidated comes crashing down when Dimato sends a chilling message aimed at a more vulnerable target.
Brad is surprised when Terese gives him the green light to abandon his teaching career if he really wants to. And so when Susan undermines Brad's abilities as a teacher, he questions his future at the school. But before Brad can inform Susan of his decision, he reaches out to wayward student, Jayden. After making an unlikely breakthrough with this renowned trouble-maker, Brad comes to realise he might just be in the right career after all.
When Toadie and Sonya reveal to Cat that they are considering letting her move in, Cat emphasises how much her foster parents don't want her. But Sonya's suspicious and reaches out to Cat's foster mother, Lorraine. Through Sonya's efforts, Cat and Lorraine are reunited. Accepting that Cat has found her way home, Sonya finally allows herself to let go of her guilt over Erin.
Get the latest updates, reviews and unmissable series to watch and more!
Thank you for signing up to Whattowatch. You will receive a verification email shortly.
There was a problem. Please refresh the page and try again.