Britain's Top 100 Dogs Live – ITV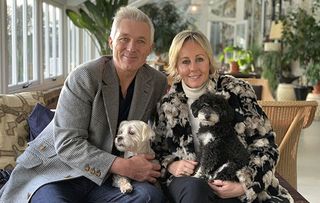 The search is on to find the nation's favourite breed of dog in Britain's Top Dogs Live on ITV
The search is on to find the nation's favourite breed of dog in Britain's Top Dogs Live on ITV
It's time to unleash our unbridled love of dogs and get voting for the nation's favourite breed!
Last year the labrador was crowned the king of the canine.
Tonight presenters Sara Cox and Ben Fogle return to ask once again: what's Britain's favourite dog?
An exciting combination of live voting by viewers and tales about plucky pooches around the UK, this one-off special is sure to have us shedding tears and laughing with joy, as it celebrates our unique relationship with our four-legged friends.
Featuring contributions from Coronation Street's Sue Cleaver, I'm a Celebrity winner Harry Redknapp and champion boxer Nicola Adams.
TV Times rating: ****
TV Times caught up with Sue, 55, during a break in filming for Corrie, to find out more about her dog George Paws…
We love the name George Paws. How did you decide on it?
He's a rescue dog and was already named George, so I added to it. He's gone from plain George to Gorgeous George Paws!
How did you come to adopt him in the first place?
Poor George had a bit of a sad time.
My friend owns kennels and she always keeps two places free for rescue dogs.
When she found George Paws, he was very skinny yet she thought she'd be able to find him a home… but no one wanted him!
After he was with her for nearly two years, she approached me and asked if I'd do a newspaper article to try and get him a home.
I thought it was a great idea but wanted to have him for a couple of days first.
Of course, he came home with me and has been with us ever since! My family love him.
What do you know about him?
He's probably about eight or nine years old. He's a mixed breed with staffie in him.
For Britain's Top 100 Dogs Live he's having his DNA tested – it's the same as human DNA testing. His mouth was swabbed – so we'll finally find out what he is!
What else did you and George Paws get up to for this show?
I took him to Coronation Street and he had a little look round Street Cars.
This was his first visit to the set and I'm not planning on bringing him back on set! I don't want it to go to his head.
He also peed on set and started humping a member of the crew's legs…
So we won't be seeing him guest starring in Corrie, then?
No! Corrie had to be a dog-free zone the day he came in, because he gets quite nervous around other dogs.
I would like Eileen to get a dog, though – something loyal. She might have more luck with dogs than men!
Get the latest updates, reviews and unmissable series to watch and more!
Thank you for signing up to Whattowatch. You will receive a verification email shortly.
There was a problem. Please refresh the page and try again.