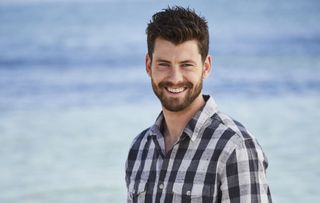 (Image credit: Jeremy Greive)
Brody is forced to take responsibility for his actions
At the police station, Kat tells the Morgans that Brody is being charged with theft and his bail hearing is tomorrow. Knowing that Brody's likely to run, the Morgans decide to offer Salt as the guarantee for bail. Brody is livid with his family's decision to put Salt up against his bail. At home, Justin, Tori and Mason decide that it's safer for Raffy to move out while Brody gets better. The next day, Brody makes bail and returns home. He's livid with his family, but upset when he sees Raffy leaving with Kat and her suitcases. Is this the wake-up call Brody needs?
Meanwhile, Scarlett is livid that Bruno has made contact with her. He's an ex-colleague and private investigator that has been asked to track her down. Scarlett is furious, but Bruno says he won't tell his client her whereabouts if she pays him $8,000! Panicked, Scarlett starts applying for short-term loans over the phone. Alf overhears her conversation and she admits she's on the run from her husband, so Alf offers her the money. Will Scarlett accept his offer?
Get the What to Watch Newsletter
The latest updates, reviews and unmissable series to watch and more!
Tobi Oredein is an award-winning women's lifestyle journalist, media entrepreneur and international public speaker based in London, who focuses on race, feminism, beauty politics & popular culture. Tobi has been commissioned by Buzzfeed, British Glamour, Grazia, Elle UK, Fader, The Debrief, The Independent, The Pool, Stylist, Vice and others. She has also interviewed public figures such as Ryan Coogler, Ava Duvernay and Sir Trevor McDonald.