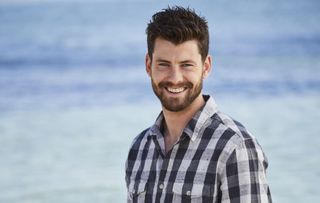 (Image credit: Jeremy Greive)
Brody's hallucinations are getting worse by the day...
Brody feels awful after returning from a swim and begins to hallucinate. He sees his mum and she begs him to be honest with his family. Then, Mason walks in and Brody admits he's been hallucinating again. Mason asks Brody what their mum said and Brody begins to explain their conversation when both his mum and Mason disappear! Brody has hallucinated the whole thing. How long will Brody continue to suffer with his withdrawal symptoms before he goes into rehab?
Justin and Ben are arguing on the beach after surfing. Ben blames Justin for breaking his fins, but Justin argues back that it's not his problem. Later, Ben's furious when he sees Justin driving his car. Ben thinks Justin has stolen his car, unaware that he owns the garage. Has Justin made a new enemy?
Maggie is irritated as she continues to argue with her daughters. Ziggy and Coco are keen to leave Summer Bay, once and for all, but Maggie wants to explore Summer Bay and has booked a tour bus trip for the family. A bubbly John comes along to take the Astonis and other tourists on the bus tour; however, John is unaware of the havoc Ziggy and Coco are about to unleash on his tour…
After the bus tour, Ziggy is desperate to get in touch with her boyfriend Jared who has been avoiding her calls. Desperate to track Jared down, she packs a bag and breaks into the Salt van and starts driving away, unaware that Brody is asleep in the back of the van.
Get the latest updates, reviews and unmissable series to watch and more!
Thank you for signing up to Whattowatch. You will receive a verification email shortly.
There was a problem. Please refresh the page and try again.