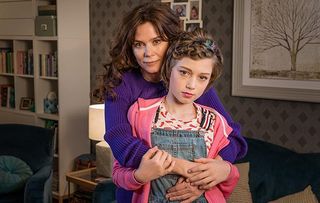 Anna Friel and Emmett J Scanlan star in new ITV drama, Butterfly, about an estranged couple whose school age son identifies as a girl
A crisis of identity is at the heart of this poignant drama.
What would you do if your 11-year-old child felt that they had been born in the wrong body?
That dilemma is at the heart of this absorbing three-parter, with Anna Friel on dazzling form as mum Vicky whose son Max (Callum Booth-Ford, pictured above with Anna) is increasingly distressed about having to suppress the fact that he identifies as female.
Vicky's estranged husband Stephen (an impressive Emmett J Scanlan) is uncomfortable about the situation, but as Max reaches breaking point, Vicky and Stephen are forced to confront the matter.
TV Times caught up with Anna, 42, to ask her what appealed to her about the drama.
'I found Vicky very relatable and I loved Max/Maxine's bravery and strength, but the script also made me laugh.
'It's a very important story that needs to be told and needs to educate people. I feel a great responsibility,' she says.
'I keep thinking back to 25 years ago when I kissed a girl in Brookside. Everyone was like, "Aarrgh!" and I got called all sorts of names, but now nobody would blink an eyelid – it's the norm.
'Let's hope we make the same progress with gender variance.
'The script's so clever, because it's looking at it from every person's perspective, [including Max's grandmother, Barbara's]' she adds.
'At one point, Vicky blames herself, so it's honest and truthful. It's about whether we can bring this family together with all these different opinions. You watch them on a journey of discovery.'
A compelling, sympathetic look at a timely subject – and you will end up rooting for every member of the family.
The full interview is available in this week's TV Times on sale 9 October.
TV Times rating: *****
Get the latest updates, reviews and unmissable series to watch and more!
Thank you for signing up to Whattowatch. You will receive a verification email shortly.
There was a problem. Please refresh the page and try again.