Can Amira help prove Ric's innocence in Holby City?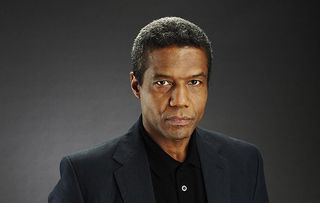 (Image credit: BBC)
Donna reckons the agency nurse has vital evidence that could help him avoid a life behind bars…
As Ric languishes in prison where he awaits trial for medical manslaughter, his colleagues at Holby have been doing all they can to try and prove his innocence.
Donna and Fletch recently discovered that agency nurse Amira Zafar was on AAU the day that Ric ordered the blood-thinning drugs that could have saved patient Elaine Warren's life. But Amira's since left nursing, so they're struggling to track her down.
Luckily, Fletch manages to contact Amira via a private email address – and both he and Donna are stunned when she turns up! When a desperate Donna, however, pressurises Amira into admitting Ric asked her for the blood-thinners and tells her she might have to give evidence in court, Amira refuses to help!
Donna pleads with Amira to help save a decent man from going to prison for something he didn't do but it doesn't look like she's going to change her mind. With Ric in court next week, can Amira provide crucial evidence to help his case?
Meanwhile, still worrying about nan Sheilagh following her stroke, Lofty's concerns grow when she's diagnosed with a blocked artery in her lungs. Knowing her heart could stop at any minute, Sheilagh tells Dom she wants to sign a Do Not Attempt Resuscitation (DNAR) form – and she doesn't want Lofty to know!
When Sheilagh take a turn for the worse, however, Dom can't find the signed DNAR in her notes, so helps Frieda to revive her. While Lofty's grateful, Sheilagh's annoyed, telling Dom in front of Lofty that she'd signed the form 'like he told her to'.
Lofty's furious at being kept in the dark, saying that if Dom truly cared about him he would have told him. Is this the end of their fledgling relationship?
Get the latest updates, reviews and unmissable series to watch and more!
Thank you for signing up to Whattowatch. You will receive a verification email shortly.
There was a problem. Please refresh the page and try again.