Can Danny get Leopard's Den back?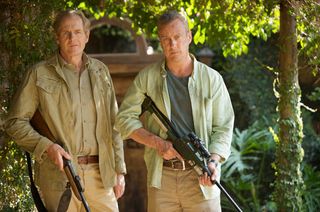 Tensions are still running high between everyone at their temporary home. In a bid to get back both Leopard's Den and Mara, Caroline has put together a business plan that she hopes to present to the board - with Danny and Dup's help - where they will hope to obtain a grant. They want to create a new centre where South African animals from zoos all over the world are rehabilitated back into the wild. But Danny's former Big Five boss, fellow vet Ed Lynch, is also presenting to them. He wants their funds to create a different park, which Danny thinks sounds more like a theme park than a refuge for animals. Danny, Dup and Caroline try their best to show how enthusiastic they are about what they want to do and how much they want to get back to Leopard's Den. After the meeting, the board asks Ed and Danny to meet them at Leopard's Den. Once there, the board reveal that they want them both to team up in order to obtain the grant. Neither of them are too keen to go ahead, but Ed says that the only way he will consider their offer is if Dup is written out, and if it becomes a joint business deal between himself and Danny. Danny declines, but as soon as Dup finds out, he convinces Danny that accepting the offer from Ed and the grant is the right thing to do.
Get the latest updates, reviews and unmissable series to watch and more!
Thank you for signing up to Whattowatch. You will receive a verification email shortly.
There was a problem. Please refresh the page and try again.