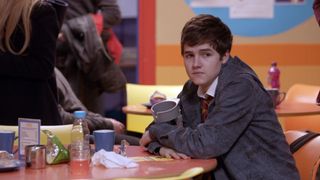 (Image credit: BBC/Shed Productions (WR) Ltd)
The police raid Waterloo Road at dawn when a cyber attack is traced to the school this week!
Shocked headmaster Vaughan (Neil Pearson) is left reeling by the bust and is determined to uncover who hacked into the security system of computer giant Wiredata.
So, while the police investigation shuts down the school's Internet system and confiscates computers for forensic testing, Vaughan rounds up a list of likely suspects, never for a moment imagining stroke victim Kevin and his own son Leo are to blame!
The reason the boys hacked into Wiredata's system it seems was to prove Kevin's still as sharp as ever after his devastating stroke. Although cunning Kevin exited the building without leaving a trace, Leo failed to cover his tracks!
So with the school swarming with police, the boys have no option but to confess all to Vaughan and Wiredata boss Jackson Whittaker (Robert Cavanah).
But as Whittaker threatens to prosecute with the full force of the law, Kevin has another trick up his sleeve – and threatens to bring down the multinational company's entire computing system!
Impressed, Whittaker agrees to get Kevin off with a caution if the schoolboy will share his expertise with his firm.
Elsewhere, Justin confirms Floyd's suspicions that he and Tiffany are a couple, and furious Floyd punches his sister's troublesome boyfriend! Tiffany decides to come clean to her mother Allie, who insists Vaughan sends Justin to boarding school.
Meanwhile, Sonya writes a thinly veiled story about English teacher Christine's alcoholic past, which accidentally gets circulate among the teachers…
Get the latest updates, reviews and unmissable series to watch and more!
Thank you for signing up to Whattowatch. You will receive a verification email shortly.
There was a problem. Please refresh the page and try again.