Cannabis: Miracle Medicine or Dangerous Drug? – BBC2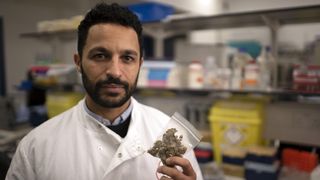 (Image credit: BBC/Andrew Fleming)
New BBC2 documentary Cannabis: Miracle Medicine or Dangerous Drug? looks into the pros and cons of recreational and medicinal cannabis
Examining the benefits and dangers of medicinal cannabis in BBC2's Horizon documentary Cannabis: Miracle Medicine or Dangerous Drug?, A&E doctor Dr Javid Abdelmoneim (pictured above) meets seven-year-old epilepsy sufferer Alfie Dingle, who was having up to 30 seizures a day until he was treated with cannabis oil.
Javid then visits a huge Canadian-owned cannabis farm in Denmark, where plants are grown for the ever-expanding European market – big business that's projected to be worth $19bn by 2027.
Back in the UK, the A&E doc joins a pioneering trial into making recreational cannabis safer, and the results are eye-opening…
'Alfie started to get better and the seizures stopped,' says his mother, Hannah, who successfully campaigned for UK law on medicinal cannabis to be changed.
To check out the other side of the story, Javid also visits King's College Hospital in London, where research is being carried out into links between cannabis and mental-health issues.
He learns that smoking skunk – a high-strength variety of the drug – daily increases the risk of developing psychosis fivefold.
'It's the high concentration of the psychoactive THC chemical [in skunk] that's causing the increased risk,' the medic explains.
Javid also meets stroke victim Carly, the first British patient to be prescribed cannabis flowers.
'This research is vital if we are to discover whether cannabis will help or harm patients,' he says.
'But the potential is exciting!'
TV Times rating: *****
Thank you for signing up to Whattowatch. You will receive a verification email shortly.
There was a problem. Please refresh the page and try again.