Casualty spoilers: Duffy's shock betrayal!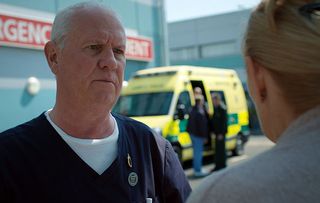 (Image credit: BBC)
Casualty reveals: Is this the end for Charlie and Duffy? Iain's mental anguish worsens. Alicia and Ethan decide to interfere in Rash's love life!
Heartbreak hotel for Duffy and Charlie?
It's taken Duffy and Charlie Fairhead thirty years to admit their feelings before they finally tied the knot last year. But their marriage is now officially on the rocks after Duffy wakes up naked in a hotel room with childhood sweetheart Bill Crowthers!
Things have been strained between the newlyweds for months – Charlie's working long hours and Duffy has developed a secret anxiety disorder. Instead of turning to each other, Charlie's buried in his nursing duties and Duffy's leaning on Bill…
This week hung-over Duffy's horrified by her betrayal, throws Bill (Clive Wood) out, and demands he never contacts her again. Duffy's hopes of a quiet, hasty exit vanish, however, when a hotel guest needs urgent medical attention after almost drowning in the pool. When paramedics Iain Dean and Ruby Sparks turn up, Duffy quickly lies about attending a meeting. But do they believe her?
Later at the hospital Duffy tells Charlie she stayed at the hotel for headspace after their recent argument. Yet, unknown to Duffy, Bill's waiting outside the ED. Meanwhile, suspicious Charlie can't stop himself checking his wife's phone… Is Duffy's betrayal about to be exposed?
Fragile Iain risks his life
Paramedic Iain Dean recklessly risks his life this week when he runs into a burning building after an explosion at an illegal meth laboratory. Iain (Michael Stevenson) manages to rescue drug addicts Harry and Base, but later is plagued with flashbacks of the devastating car-crash that claimed the lives of his partner Sam Nicholls and Base's girlfriend Mia. Can he continue to hide his anguish?
Will Gem go to the ball?
Junior doctor Rash Masum's love triangle continues to have sharp edges this week. Anaesthetist Jamila has bought him a tidy tux to attend the medic ball with her – causing things to get catty between her and Rash's ex, hospital porter Gem Dean.
Alicia and Ethan continue to carefully avoid their feelings for each other and instead decide to play matchmaker. Alicia loans Gem a glamorous dress and her ticket to the ball with Ethan. But will Gem agree to go? With Charlie and Duffy's relationship in pieces, we're hoping for a happily ever after here!
Also this week
Ethan and Alicia's good intentioned meddling in other peoples' love lives brings them closer together.
Iain continues to hide his downward spiral from those who care most about him. Meanwhile, Base faces the devastating consequences of his actions – will he continue to work for drug dealers?
And Louise is disillusioned with her new nursing position. She's taking on a lot more responsibility but her pay increase is minimal. Will Louise's financial struggles become catastrophic when she's not paid due to an admin error?
Casualty continues Saturday 27th October at 8:35pm on BBC One
Get the latest updates, reviews and unmissable series to watch and more!
Thank you for signing up to Whattowatch. You will receive a verification email shortly.
There was a problem. Please refresh the page and try again.