Casualty spoilers: Dylan plays a very dangerous game!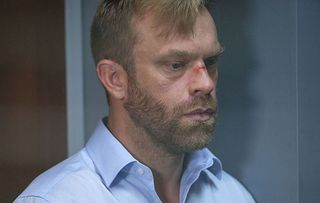 (Image credit: BBC / Alistair Heap)
Dylan and Ciara's destructive relationship takes a shocking new twist
Is Dylan dicing with death in Casualty this Saturday?
Casualty left us on a cliffhanger last week when we saw doctor Dylan Keogh and his lover Ciara being run off the road by her violent, jealous husband Joel.
This week Casualty returns to the immediate aftermath of the crash and things look bleak – Dylan is unconscious and injured Joel continues his terrifying impression of Jack Nicholson in The Shining.
Uninjured, Ciara breaths a sigh of relief when Dylan (William Beck) comes round and takes charge, treating all the casualties – including Joel who's screaming blue murder. Meanwhile, terrified of her husband, Ciara heads home, packs her bags, and arranges to meet Dylan later at his boat.
If Dylan thought his day couldn't get any worse, he was sorely mistaken. Back at the ED he's got questions to answer – not least from clinical lead Connie Beauchamp and the police. And Joel isn't finished with him either! But is Dylan's real enemy his own body? When Dylan suddenly becomes ill at the hospital junior doctor Rash orders an urgent CT scan…
Iain Dean's fragile health threatened
Recently paramedic Iain Dean took the brave step to get help with his secret PTSD, following the traumatic events that killed both Sam and Mia. This week, Iain seems on more of an even keel knowing he's on the waiting list for counselling. He even opens up to paramedic partner Ruby after he hesitates while treating a patient.
Iain's progress is undermined, however, when he visits Mia's recovering drug-addict boyfriend, Base, only to find remorseless drug dealer Ross trying to recruit Base back into old habits.
Will a heated confrontation significantly set Iain back?
Marty and Jade's rivalry takes a deadly turn
Junior nurses Marty and Jade continue to squabble and bicker like siblings this week as they both vie for the attention of an attractive patient. Their rivalry takes an unhealthy turn when Jade resorts to dirty tricks to outdo Marty, leaving him fighting for his life!
Also this week…
Clinical lead Connie (Amanda Mealing) is hard-pressed to keep the ED from breaching, as patients pile up and beds are urgently needed. Her stress levels are stretched to new horizons when Dylan and Joel are admitted for urgent medical attention. Will she decide Dylan's a liability she can ill-afford to keep on the team?
Meanwhile, terrified Ciara flees the crash scene and heads to the safety of Dylan's boat. While Dylan's enduring a number of ordeals at the hospital, Ciara comes to a realisation about their relationship and decides on a course of action for the future. Will it include Dylan?
Elsewhere, recently widowed Robyn stresses she has no interest in dating when Jade and Marty quiz her about her love life. And Alicia is stunned by co-worker Ethan's latest grand gesture. It remains to be seen whether Ethan's endeavours brings the star-crossed couple closer together or push them further apart…
Get the latest updates, reviews and unmissable series to watch and more!
Thank you for signing up to Whattowatch. You will receive a verification email shortly.
There was a problem. Please refresh the page and try again.