Casualty spoilers: Robyn's horrific baby anguish!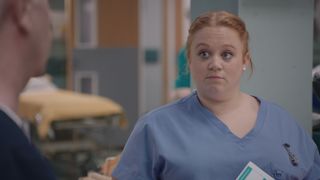 (Image credit: BBC)
Nurse Robyn Miller is distraught when Duffy leaves her daughter alone in the park…
Warning: Contains spoilers about Robyn Miller, Ethan Hardy, Rash Masum and many more Casualty favourites!
Robyn's worst fears come true
Nurse Robyn Miller's worst nightmare comes true this week when her young daughter Charlotte goes missing while in Duffy's care.
Robyn's looking forward to a day off with Charlotte when friend and manager Charlie Fairhead ropes her into working because hospital inspectors have descended on Holby ED. Robyn's reluctant at first, but relents as she trusts Charlie when he says Duffy is fit to babysit, despite her dementia. Yet it's a decision Robyn (Amanda Henderson) comes to rue all too soon…
Duffy's delighted to spend time with Charlotte, unaware of Robyn's anxieties. Everything goes swimmingly until Duffy decides to take Charlotte to the park only to suffer major memory loss. Confused and frightened Duffy makes her way to the one place she can remember, the ED, but completely forgets about Charlotte…
There's a shocking fallout for everyone involved. Can distraught Robyn find Charlotte before she comes to harm?
Read our interview with Amanda Henderson for more on this week's harrowing story.
Rash returns in Casaulty
Doctor Rash Masum returns to work this week following his recent altercation with Ethan Hardy…
Rash (Neet Mohan) is determined to prove himself but with junior doctor Mason equally determined to wind him up, and clinical lead Dylan Keogh issuing Rash with a final warning, it is an uphill struggle…
MORE: Neet Mohan reveals what the future holds for Rash
Also in Casualty this week
Dylan Keogh is on the warpath thanks to hospital inspectors turning up. Fans will NOT be disappointed when he fails to be the host with the most!
Ethan gives Effie the key to his heart/bachelor pad…
And nurse David Hide is in a flap when hospital inspectors arrive at the ED. Can he keep his cool when he's asked to step in and show them around?
Casualty airs on Saturday 16 November at 9.10pm
Get the latest updates, reviews and unmissable series to watch and more!
Thank you for signing up to Whattowatch. You will receive a verification email shortly.
There was a problem. Please refresh the page and try again.