Casualty spoilers: Sam Nicholls dead! Iain sacked?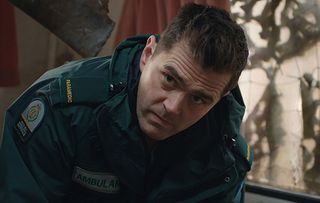 (Image credit: BBC)
Paramedic Iain faces the sack following multiple deaths in Holby's car crash horror, including his beloved partner Sam Nicholls
As the news of Sam Nicholls' death ripples through the ED, people close to her react in unpredictable ways. Sam's paramedic partner Iain (Michael Stevenson) is determined to get back to work…
Before Iain can return to his duties, first he has a confession to make to boss Jan Jenning (Di Botcher)… Mia, who jumped to her death on the motorway, setting the crash in motion, told him earlier on that fateful evening she was suicidal. Even so Iain assessed it was okay to leave Mia, and also left this vital information off his patient report!
Iain thinks he'll simply be suspended and is shocked when furious Jan reveals he could be fired! Desperate not to lose another valuable member of her paramedic team, Jan conspires with Iain to coerce rookie paramedic Ruby to lie on her official statement so her report matches Iain's. But Ruby's a stickler for the rules; will she get tangled up in Iain and Jan's web of lies? For more read our interview with Michael Stevenson here
Meanwhile, clinical lead Connie Beauchamp announces the news of Sam's death to the ED. Shortly afterwards, however, it's back to business.
She calls a meeting with all the senior staff to inform them the ED is in trouble. If they continue to miss their targets the department will be investigated!
Elsewhere, alcoholic Ciara crashes back into doctor Dylan Keogh's life when she arrives at the ED having tried to go cold turkey with her friend Amy Muller.
At first recovering alcoholic Dylan is dismissive but he has a change-of-heart midway through the shift and, uncharacteristically, breaks a few hospital rules along the way. If Connie finds out she'll be fuming!
Also this week David supports Dylan, knowing that he's in shock over Sam's death. The introverted nurse, even helps Dylan hoodwink Connie!
When Gem can't get hold of her grieving brother, Iain, Rash reaches out to the shell-shocked paramedic and encourages him to speak to someone about his grief. When Gem finds out, will she be impressed or offended?
Ruby's under extreme pressure to go against her principles. Jacob promises Elle he'll talk to their son Blake about Sam's tragic death – but will Jacob mention that he was secretly dating Sam, knowing his son was in love with her? And Connie warns her senior staff that the ED is on its knees.
Get the latest updates, reviews and unmissable series to watch and more!
Thank you for signing up to Whattowatch. You will receive a verification email shortly.
There was a problem. Please refresh the page and try again.