Cindy causes a stir at Neeta's hen party!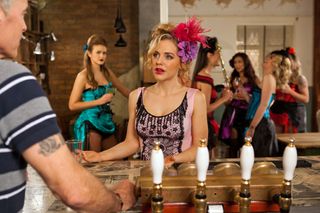 When Neeta tells Mac that Cindy has replaced Ellie as bridesmaid, Mac catches up with Cindy – he's furious with her and an eagle-eyed Ellie watches them, suspicious. Mac sends a video message to be played at Neeta's hen party and Cindy leaves guilty, making Ellie even more curious.
Nico rings Patrick thinking he must still be alive, while Maxine and Darren realise they can't do anything now until nighttime. Darren returns home to Nancy, who's angry at first but softens after hearing Patrick's 'missing'. Later, Darren meets Maxine in the alleyway and they decide to check the body in the wall again. As Maxine and Darren watch the workmen work on the wall, they come up with a plan… they'll keep his body buried in the wall forever. With Nancy torturing herself about Darren and Maxine, Esther talks her into going on a day trip. Nancy goes to the Roscoes' garage to get Darren's car but finds something suspicious in the boot - Patrick's tiepin. When Nancy quizzes Darren, he reveals Patrick made him drive him the headlands and he left him there. Nancy urges Darren to go to the police.
Later, Sienna storms into the station with Maxine and Nico. She spots her dad's wheelchair and Ben breaks the news to her that they found it at the headlands, which is where Darren and Maxine left it.
Also, Alfie asks Tony for work experience. Tony reluctantly agrees but, as Mac storms in, an embarrassed Alfie runs off!
Get the latest updates, reviews and unmissable series to watch and more!
Thank you for signing up to Whattowatch. You will receive a verification email shortly.
There was a problem. Please refresh the page and try again.