Cindy makes a discovery...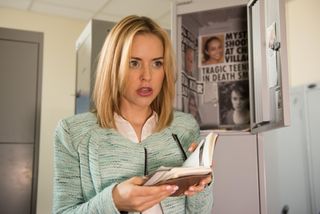 After Kyle meets Holly in the school yard and gives her a pill, Robbie finds Holly stumbling around the car park and panics when she collapses. At the hospital, Robbie tells Holly he loves her, then leaves when Jason arrives. Dirk and Cindy are horrified to hear that Holly's taken drugs. Cindy leaves Holly to rest and sneaks into the privacy of the hospital locker room to recover from the day's drama. Cindy hides when Celine comes in and gets another hormone injection. When the coast is clear, Cindy makes her escape but sends one of the lockers crashing to the floor. She's confused when the contents fall out, revealing newspaper cuttings and pictures of the Gloved Hand's victims…
Meanwhile, Harry is now resolute about going back to boarding school. John Paul can see something's wrong with Ste and encourages him to do what makes him happy. As Tony launches Hollyoaks Gay Pride at The Hutch, Ste finds Harry and asks him to come back to Hollyoaks.
Also, Tegan finds out Celine's been writing to Cameron.
Get the latest updates, reviews and unmissable series to watch and more!
Thank you for signing up to Whattowatch. You will receive a verification email shortly.
There was a problem. Please refresh the page and try again.