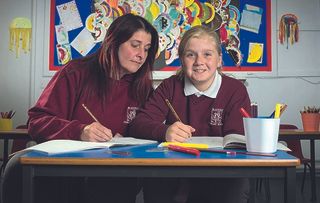 (Image credit: Matt Squire)
There are broken rules and disagreements in tonight's look behind the scenes at Blackrod Primary School in Bolton as Class of Mum and Dad continues
There are broken school rules and classroom disagreements in tonight's look behind the scenes at Blackrod Primary School in Bolton, as the mums and dads of class 6M continue to find out the hard way what school life is really like for their children.
Troublemaker dad Jonny gets sent to headteacher Mr Dryburgh for flouting uniform regulations and not doing his homework, while Julia gets told off for making tea in the kitchen by class teacher Mrs Mead.
Meanwhile, there's a major fallout in the classroom that threatens to spoil the school's biggest annual fundraising event – the summer fair…
Thank you for signing up to Whattowatch. You will receive a verification email shortly.
There was a problem. Please refresh the page and try again.