Climate Change: The Facts – BBC1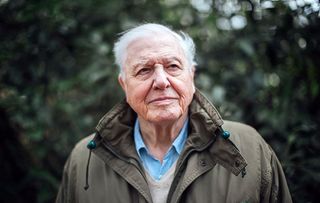 (Image credit: BBC/Polly Alderton)
Sir David Attenborough explores some of the dangerous consequences of and solutions to global warming in one-off BBC1 documentary Climate Change: The Facts
Sir David Attenborough explores some of the dangerous consequences of and solutions to global warming in one-off BBC1 documentary Climate Change: The Facts
After one of the hottest years on record, Sir David Attenborough (pictured, above) presents Climate Change: The Facts, an 'unflinching exploration' of the causes, impact and possible reversal of climate change.
Some of the world's leading climatologists and meteorologists, including Dr James Hansen, Dr Michael Mann and Professor Catherine Mitchell, reveal what has been causing the extreme weather across our planet in recent years, including unprecedented storms and devastating wildfires, and predict what is likely to happen if global warming exceeds 1.5 degrees and if major reductions in CO2 emissions are not made in the next decade.
They also explain how melting sea ice has already led to rising sea levels, which could be catastrophic for so many people around the world, and how deforestation is exacerbating the problem of global warming by adding to CO2 in the atmosphere.
With footage documenting the devastating effects of climate change already being witnessed, the documentary also looks at how some of the world's governments and industries are creating positive and innovative solutions to this global crisis, and showcases some of the individuals who are creating change at grassroots levels.
Last December, Sir David, 92, called climate change 'humanity's greatest threat in thousands of years' at the United Nations climate change conference, and earlier this year, when he was interviewed by Prince William at the World Economic Forum, he talked about how people must care, respect and revere the natural world.
He has also said in the past that when he started his career in the mid-1950s, he did not think there was anybody who thought 'there was a danger that we might annihilate part of the natural world.'
'It may sound frightening,' he says in the documentary, 'but the scientific evidence is that if we have not taken dramatic action within the next decade, we could face irreversible damage to the natural world and the collapse of our societies.'
TV Times rating: *****
Get the latest updates, reviews and unmissable series to watch and more!
Thank you for signing up to Whattowatch. You will receive a verification email shortly.
There was a problem. Please refresh the page and try again.