Coronation Street: Geoff plays the victim for Yasmeen Nazir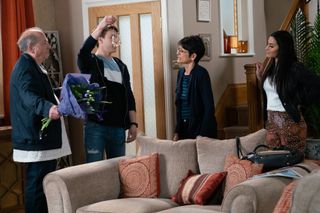 Yasmeen Nazir is embarrassed when Alya and Ryan 'wrongly' accuse Geoff of stealing
Coronation Street's Alya and Ryan are horrified and make Geoff turn out his pockets while Yasmeen Nazir watches on, is he guilty of the robbery? Geoff pulls out a receipt and proves that he bought the necklace to replace the lost one. Angry, Geoff says if they don't trust him he is moving out.
Sarah calls the workers together and announces that Carla is due back tomorrow.
Nick is angry to discover Leanne alone in the flat and no sign of Gail and Audrey for birthday drinks. Furious, he storms round to David's and a fight ensues as a desperate Gail tells them to stop. Back at the flat, Nick tells Leanne that sometimes his brain injury makes him do stupid things and he wishes he could control it.
With some encouragement from Emma, Maria sets up a profile on a dating site. Billy despairs as Paul and Sean continue to snipe at each other.
Get the latest updates, reviews and unmissable series to watch and more!
Thank you for signing up to Whattowatch. You will receive a verification email shortly.
There was a problem. Please refresh the page and try again.