Coronation Street: Peter Barlow discovers Simon is stuck on his burning boat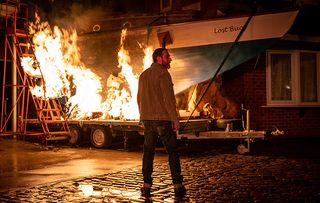 A crowd gathers as Aadi and Asha tell Peter Barlow that Simon is still on board the burning boat.
A furious Abi lashes out at Peter Barlow for his treatment of her and heads off to get drunk, Peter tries to reason with her that alcohol isn't the answer but she gives him short shrift.
Meanwhile, in the boat, Simon is showing Aadi and Asha round using a hurricane lamp he has lit. Leaving Simon on the boat, Aadi and Asha extinguish the lamp and go home. But in the darkness someone knocks over the lamp and the smouldering wick ignites.
A crowd gathers round the burning boat as Aadi and Asha tell Peter that Simon is still on board. Will he rescue him in time? Furious Peter goes in search of Abi certain she started the fire as a drunken act of revenge but has he fingered the wrong person?
Shona is crushed when Clayton tells her that he wishes she'd died rather than his Dad. Having forced the information from Nick, David confronts Shona wanting to know why Clayton was beaten up. Shona plays it down and keeps schtum about the drugs but does David smell a rat?
Adamant that she's happy to babysit, Mary insists Tyrone and Kevin head out for a few beers. When she offers to pop a hot water bottle in Tyrone's bed for his return, he's touched whilst Kevin reckons Mary fancies him. Having thanked Mary and bid her goodnight, Tyrone's horrified to discover a Valentine's card on the mat.
When Joseph refuses to go to bed, Chesney threatens to ban any telly for a week. Joseph fires Gemma's swear word at him and runs upstairs leaving Chesney shocked. Later, Chesney berates Gemma for teaching Joseph a swear word and with the evening ruined, she heads off in a strop.
Get the latest updates, reviews and unmissable series to watch and more!
Thank you for signing up to Whattowatch. You will receive a verification email shortly.
There was a problem. Please refresh the page and try again.