Coronation Street spoilers: Sally Metcalfe accuses Abi of being a gold digger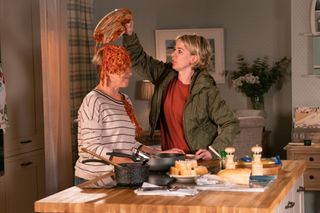 Sally Metcalfe gets covered in spaghetti bolognese by a furious Abi
Sally Metcalfe has a go at Abi, in the second visit to Coronation Street on Wednesday 6th November (8.30pm, see our TV guide for full listings), Sally accuses Abi of only taking an interest in Kevin since he came into money, prompting Abi to throw a bowl of spaghetti bolognese over Sally. How will Kevin react to Sally's accusations?
A tearful Shona packs away her wedding rings and has to admit that the wedding is off. However, the family are shocked when news arrives that new evidence means David may be released after all…
Gary's private investigator reports back, stating that Ali's been missing shifts at work, behaving strangely and on further investigation, it would seem that one of the hospital pharmacists was arrested for stealing and supplying drugs.
With Ken worried that Daniel will regret his decision not to come back for the funeral, Claudia takes charge saying they must go and find him and bring him back.
Amy confides in Emma that she and Tyler have been texting each other. Emma worries that he's a bad influence but Amy insists he's a changed person and begs her not to tell Steve.
Get the What to Watch Newsletter
The latest updates, reviews and unmissable series to watch and more!
James has worked for What's on TV, TV&Satellite Week and TV Times magazines for more than 20 years. His all-time favourite TV shows (in no particular order) are Inspector Morse (but he refuses to accept The Wench Is Dead), Wallander (the Krister Henriksson version, of course), Our Friends in the North, Studio 60 on the Sunset Strip, and Around the World in 80 Days (Palin not Tennant).