Coronation Street Spoilers: Shona Ramsey is shocked when Gail cancels the wedding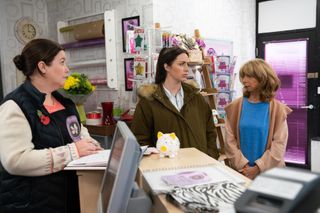 Shona Ramsey is left disappointed when Gail decides to cancel the forthcoming wedding
Shona Ramsey is shocked to discover that Gail has taken it upon herself to cancel the wedding in Coronation Street's first episode on Monday 4th November (7.30pm, see our TV guide for full listings)
Meanwhile, Nick resolves to speak to Josh to get him to change his mind.
As Emma recovers in hospital, Steve decides to report Ali to Dr Gaddas. An upset Ali meets Maria in Victoria gardens and admits he shouldn't have dumped her and is jealous of Gary, unaware that an intrigued Adam is watching them both. As Maria comforts a desolate Ali, Adam tells Gary who is furious at what he sees.
When a delivery of beard oil ingredients arrive for Sinead, Carla decides she is going to try and keep the business going for Daniel and looks for Sinead's recipe.
Brian is not impressed with Abi's plans to go on a date with Kevin on the night before her maths GCSE exam.
Get the What to Watch Newsletter
The latest updates, reviews and unmissable series to watch and more!
James has worked for What's on TV, TV&Satellite Week and TV Times magazines for more than 20 years. His all-time favourite TV shows (in no particular order) are Inspector Morse (but he refuses to accept The Wench Is Dead), Wallander (the Krister Henriksson version, of course), Our Friends in the North, Studio 60 on the Sunset Strip, and Around the World in 80 Days (Palin not Tennant).